Checkups and Cleans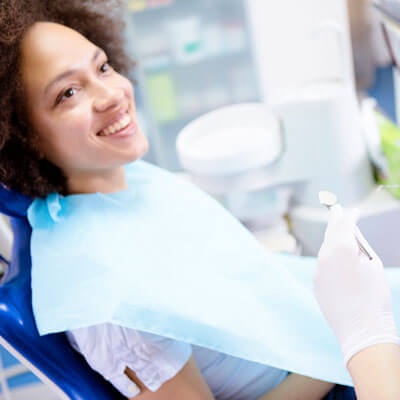 The best way to keep your smile healthy is to screen for common oral health concerns on a frequent basis. For most people, it's best to schedule a checkup, scale and clean every six months.
What's involved?
Exams — Thorough monitoring and evaluation of your smile ensure that potential concerns are intercepted as early as possible. During your checkups, we'll compare our findings to previous visits, so that new developments can be addressed when they're smaller and more affordable to correct. Ultimately, we want to focus on preventative care strategies by avoiding aggressive dental problems from developing in the first place.
Scale and Clean — When you brush and floss, there's usually a small amount of plaque biofilm accidentally left behind. After 24 hours, that soft buildup begins to calcify into tartar (calculus), which can't be removed with conventional oral hygiene aids. During your visit, we'll use special tools to clean away buildup to keep your smile healthy and avoid the onset of gum disease. People with generally healthy teeth and gums should schedule a scale and clean every six months. If you're currently recovering from gum disease, it's best to see you about every 3-4 months instead.
We'll Never Rush You
We believe that we stand out due to our dedication to quality care. We want to make sure that you're happy with your results every time that you see us. We take our time with you, ensuring that everything is done correctly.
We feel that the better informed you are about your oral health, the more comfortable you'll feel about planning appropriate treatments. We're always up front about our care recommendations, so that you know exactly what to expect. Every treatment plan will include a detailed breakdown, including costs involved.
As part of your care plan, we'll take a series of digital photos to show you any of our findings. That way you'll have the visual information you need to make an educated choice about appropriate treatment.
Because we have such a strong foundation on prevention, we'll also address what steps you can take to ensure oral conditions don't get worse, recur or spread to adjacent teeth.
---
Checkups and Cleans Mandurah WA | 9581 5344