Restorative Dentistry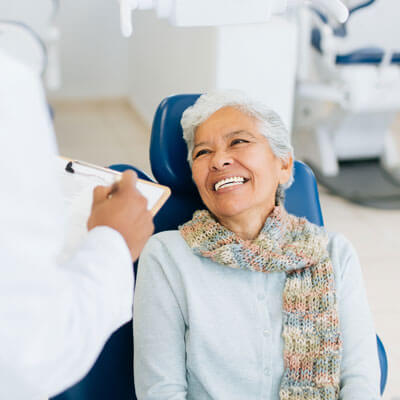 For patients who need restorative treatments, our team is happy to offer a variety of options to help bring out your best smile.
Our dental team has worked with patients just like you in the past, and can't wait to help you achieve your smile goals. If you're nervous about visiting our practice, we promise to take great care of you and your family, and will keep you informed about your care plan every step of the way so that there are never any surprises.
We currently offer the following restorative dental procedures:
Implants: Dental implants are custom made to replace a lost, broken or dead tooth and helps restore function as well as aesthetics to your smile. With our advanced implant procedure, others won't even be able to tell that it isn't your natural tooth, as it's designed to look and feel exactly as your real teeth.
Crowns and Bridges: A crown is designed to fit over a broken, chipped, misaligned or dead tooth to help restore integrity and offer protection. Like an implant, a crown will be matched to the natural colour of your teeth so that it looks pristine.
Dentures: We're happy to offer dentures to patients in need of partial or full mouth restorations. At our practice, we offer both acrylic or metal dentures, and we can help you decide which is the best option for you. We'll also teach you how to properly care for your new teeth so that they last for years to come. Read more about the denture process and learn if they're right for you.
Schedule Your Appointment
Ready to find out how Southern Dental Care – Smile By Design can help you achieve the smile of your dreams? Contact our team today to book your appointment. We look forward to working with you and helping you unlock your best smile ever. If you have additional questions about your candidacy for care, please don't hesitate to give us a call—we're happy to chat with you before you step foot in the practice.
Get started today!
CONTACT US »
---
Restorative Dentistry Mandurah WA | 9581 5344