Dentures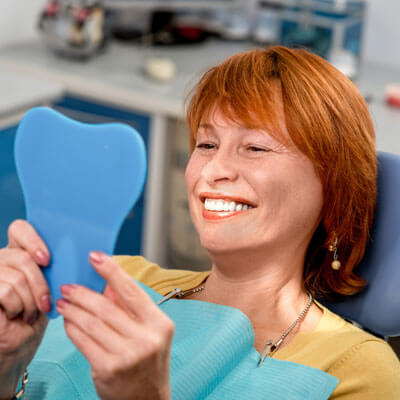 Dentures are a cost-effective way to rehabilitate the smiles of people with extensive tooth loss.
Sometimes dentures can have teeth added to them in the future, should you require any extractions or lose a tooth to gum disease. Others cover your entire arch, replacing all of your teeth (upper or lower) at the same time.
What Are Dentures?
A denture is a removable device made of metal or acrylic, which is a plastic material. Created to look like your teeth, it fits snugly over your gums to replace teeth that you have lost. The most popular version of a denture is the acrylic. It's also budget-friendly, which people appreciate.
Adjusting to a new denture can take a bit of practice. From speaking with your denture to chewing at mealtime, it's best to take things slow. Practice talking to yourself in the mirror, as your lips learn to take on a slightly different pattern with your new prosthesis. At meals, start out with softer-textured foods and cut them into small bites.
It's difficult to say how long adjustment periods take, as everyone is different. Some need a few weeks while others adapt to their new denture in just a day or two. Just like a new pair of shoes, a removable prosthesis can take some time to "break in".
A custom denture is ideal for someone who needs efficient and affordable tooth replacement treatment. They also work well for individuals who eventually want dental implants but need an interim solution before they're ready to start down the implant process.
To prevent oral infections or buildup on your denture, it's important to remove it nightly. Soak your prosthesis in an approved cleansing solution and then brush it thoroughly the next morning, rinsing it off before putting it back in your mouth. At night and morning, clean your gums with a soft washcloth or extra-soft toothbrush and brush your tongue.
Be sure to bring your denture with you when you come in for a checkup every six months!
---
Dentures Mandurah WA | 9581 5344