Teeth Whitening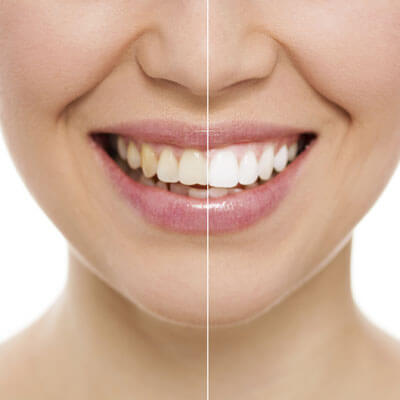 If you're 16 years or older, professional teeth whitening is a great way to enhance your smile's natural appearance. The minimal time that it takes to whiten your teeth makes it a perfect stand alone or add-on cosmetic dentistry treatment..
Types of Whitening
Depending on the timeline you want to work with, we offer two different types of whitening treatments to choose from.
Take Home Whitening — This system is made by taking a mould of your mouth to create trays that are specific to your unique smile. The custom fit keeps the whitening product right where you need it, for even distribution and results. Simply apply the gel and wear the trays for 30-45 minutes per day, for 10-14 days in a row.
Laser / In-chair Whitening — In a rush? We can whiten your teeth in just one trip to our dental clinic. Sit back and relax as we apply the gel to your smile and activate it with a special light. Although the visit can take a little over an hour, you'll have instant results. In-chair whitening is ideal for people who have last minute events or don't want to keep up with a system that they wear every day.
Affordable Cosmetic Benefits
Getting a smile makeover doesn't have to be lengthy or expensive. For some people, all they need is to whiten the healthy teeth they already have. Professional treatments give you a better and more even outcome than if you were to use store-bought systems with weaker products.
If you're planning on cosmetic treatments such as veneers or bonding, we recommend whitening your overall smile first. That way, we can closely match the colour of your new restorations to the brighter hue of your "new" smile.
Schedule a professional Teeth Whitening consultation today to find out if you qualify for this affordable cosmetic treatment.
CONTACT US »
---
Teeth Whitening Mandurah WA | 9581 5344